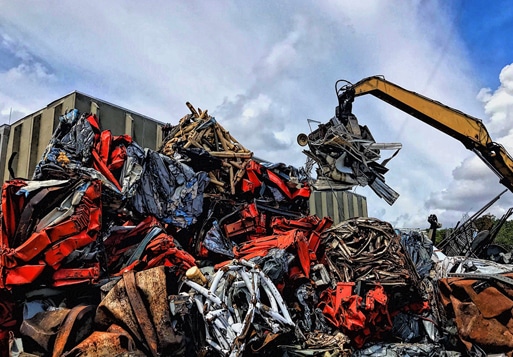 Scrap Metal West Palm Beach FL
SouthCoast Metal Recycling in West Palm Beach
Have you been looking for a place that will buy your scrap metal in West Palm Beach? If so, then there is no need to look any further because our company, SouthCoast Metal Recycling, has the best scrap yard in the West Palm Beach FL area and beyond. We specialize in purchasing and recycling scrap metals of all different types.
SouthCoast Metal Recycling is the scrap metal yard with 100+ years of combined experience. We specialize in working with all metals, both ferrous (containing iron) and non-ferrous.
Our company is very fortunate to have high-quality, state-of-the-art equipment that provides for efficient recycling of all scrap metal pieces. We have developed a highly-organized process of buying and recycling all scrap metals that we have in our collection and previous customers have been very pleased with our advanced processes.
We will buy any scrap metal you bring us and will be happy to include your metals into our own scrap yard. Our yard has grown significantly throughout the years as we have become one of the most notable collectors in the South Florida area.
In addition to being able to bring your scrap to us, we will also provide you with some of the best scrap metal West Palm Beach prices. These prices can vary depending on which company you enlist to take care of your scrap. For this reason, we encourage you to compare our prices with others so you can see for yourself that we offer some of the best deals. You may wish to begin your query by using a Google search such as, "scrap metal prices near me". We are confident that you won't be disappointed with our competitive rates. If you find better rates somewhere else in the area, then let us know so that we can be aware of our competitors' prices.
Ferrous metals that we collect include things, such as; cast iron, appliances, steel, and tin. Non-ferrous metals may include things like; electrical cable, stainless steel, batteries, aluminum, copper, and brass. If you are unsure of which type of metal you have, or if you have things that are not mentioned in the above list, then bring it to us and we will be able to decipher the metal mystery for you. Our staff members are highly-trained in all things relating to scrap metal, and we welcome the chance to help you any way we can. SouthCoast Metal Recycling, takes customer service very seriously because we know that you are at the heart of our business.
When you find yourself in the market for a scrap metal buyer specialist, then please remember our name, SouthCoast Metal Recycling. We believe in our business and in the helpful service we provide to our customers, our community, and to our environment. We can easily be reached via phone or email, or drop by our place if you are in the area. When it comes to getting rid of you Palm Beach metal, nobody does it better than us! We look forward to working with you!
West Palm Beach Scrap Metal Buyers
At SouthCoast Metal Recycling, we are proud to work with our clients in the Palm Beach area to purchase and recycle your scrap metal. We are a full-service metal recycling company that guarantees to provide you with the best customer service and most affordable prices possible.
Ferrous (Contains Iron)
Non-Ferrous (Does Not Contain Iron)
Testimonials
Very friendly people great prices
– Andrew G.
Great place convenient and fast
– Mariano G.
The place was wonderful! Very well organized! We were in and out in no time. Also made great money!
– Kay F.
These guys are great! Easy to drop of scrap. They pay top dollar!
– Jay C.
5 stars! Amazing service!
– Angelique

Friendly And Helpful Service GUARANTEED!
If you are interested in selling us your scrap metals or have any questions regarding our services, feel free to contact us. We will do our absolute best to ensure that all of your questions are adequately answered so that you can feel confident in our services.